Skip to Content

Haas Garage Doors
Your garage door is a major part of the appearance of your home especially when it faces the street. But even side load garages share the impact. Don't YOU want to see a beautiful entrance when you drive into your driveway? Your garage door should be beautiful and welcoming in all cases.
Prince William Garage Door carries and installs top quality, made in the USA, Haas Garage doors for both residential and commercial applications throughout Northern Virginia. A Haas Garage door can bring new life to your home with a beautiful first impression. With many styles and color choices, you are certain to find exactly what you are looking for to match your style with insulating R-values that lead the industry. Haas doors keep the noise and weather out of your home or business while looking beautiful with a tailored appearance.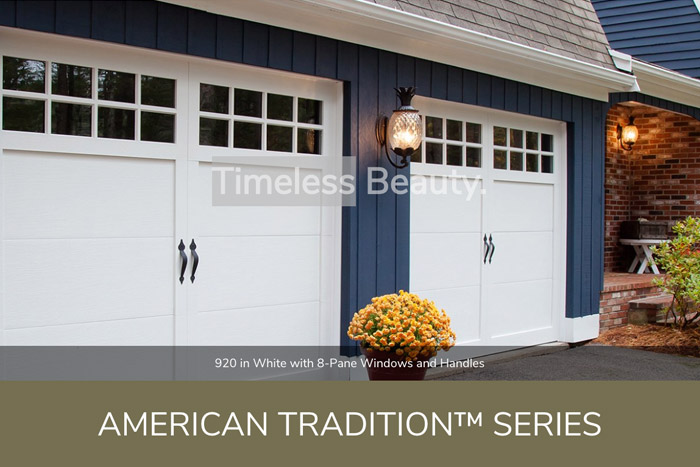 The Haas Quality Commitment
Haas Door is committed to quality and safety industry standards as well as its own quality assurance standards.
During the manufacturing process, each raw material is inspected. Thickness and finish is check for accuracy on the steel used both on the inside and outside skins of the door. The insulation material that provides the expected R-value is tested continuously to ensure the correct density, blend of material, cure time and calculated R-values are achieved.
A sampling of produced doors are tested for durability and quality. Haas doors are cycled tens of thousands of times testing endurance and performance of the sections, springs, cables, hinges, rollers, bottom seals, and the track. There is testing of the wind load and dead load to ensure your Haas garage door will meet requirements for building codes across the country.
Haas Door Features
It can be confusing when faced with all the options. With high energy costs, your garage door becomes a major decision so you want it to be right. Let's face it, you should not have to keep replacing your door! Let the professional staff at Prince William Garage Door help you select the perfect solution. Our showroom offers the opportunity to see the many available options.
Corrosion Resistant
Grain Steel
Full Thermal Break
Heavy Vinyl Bottom Seal
CFC FREE Polyurethane
High R-Values
Made with Recycled Materials
Lifetime Warranty
Options Include
Aluminum
Fiberglass
Steel
Corrosion Resistant
Variety of Sizes (heights/widths)
R-Values
Surface Treatments
Large Selection of Colors, Panel Styles & Windows
Custom-made Carriage House Garage Doors
Durable Hardware
Most doors come with limited lifetime warranty
Haas Commercial Garage Doors
Haas Doors offer the perfect solution where retention of cooled or heated and quiet, smooth operation is desired. There is a variety of insulation types and insulated section thicknesses with several choices of panel treatment styles available.
Insulated Sections are available with steel or when superior corrosion resistance is a factor, aluminum is also available. The perfect door for warehouses, cold storage facilities, factories, terminals, plane hangars, piers, etc. Insulated Haas Doors provide thermal efficiency with high quality, strength and performance.
Commercial Fire Doors
Commercial High Performance/Traffic Doors
Commercial Rolling Doors
Commercial Sectional Garage Doors
Featuring premium materials, superior craftsmanship and innovative functions, Haas Garage Door products lead the industry, with a legacy of quality, expertise, and integrity.
Get a Free Estimate Today