Skip to Content

Clopay Garage Doors
Clopay is North America's leading garage door manufacturer. Their product offering includes a complete line of commercial and residential garage doors that are beautiful, reliable, durable, and eco-friendly, too!
Residential Garage Doors
Clopay has taken the garage door from functional to fashionable. With over 1,000 different designs in steel, composite, wood, glass and wrought iron, you will certainly find the perfect door style to transform the look of your home
Many unique designs and materials are offered with our Portfolio™ Line to enhance your home's curb appeal. Choose either wood, steel or composite carriage house style garage doors from our Coachman, Grand Harbor, Reserve options. For a more affordable option try our Gallery™ Collection which offers grooved steel vintage designs. For a contemporary look, choose from our Avante™ Collection which combines durable aluminum and glass in sleek modern designs.
Our most popular Classic™ Line of steel raised and flush panel garage doors will complement most any home style. Select from one of our many decorative window options to create a custom look.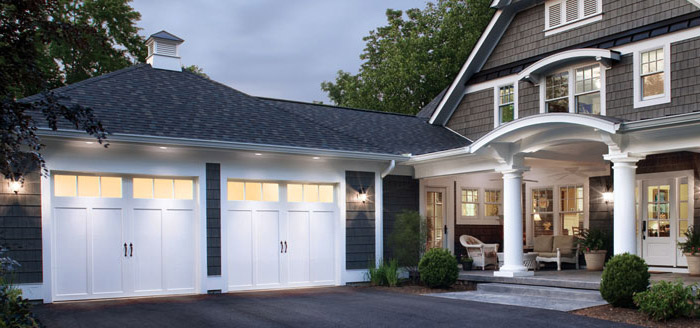 Green Doors
Even a Garage Door Can be "Green!"
The commitment to manufacturing and installing garage doors that Clopay has made enhances the beauty, safety and value of your home and doing so in a way that reduces the overall impact on the environment in every step of the process – from product design to manufacturing to distribution. You can do your part to help make your home green!
Homeowners looking for ways to make their house "green" can start by taking stock in an unlikely home commodity – the garage door. As the largest moving part on a home, the garage door plays an important role in maintaining its structural integrity and energy efficiency – two important criteria in green building design.
Long-lasting products significantly reduce the impact of manufacturing and building on the environment, as well as fuel costs associated with distribution, and general waste.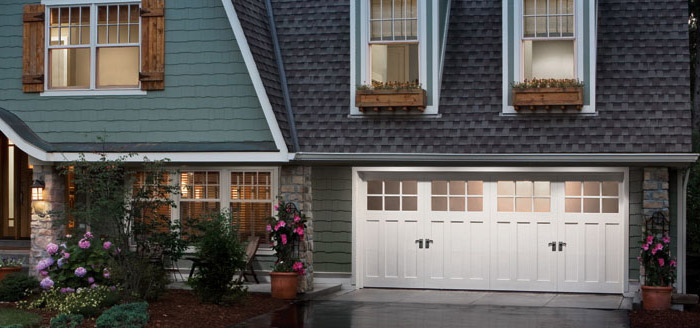 A Key Element of Green Building is Sustainability
With a life cycle of between 15 – 20 years, an investment in a durable garage door that can withstand the rigors of daily use is money well spent for a home and the environment.
Some things to look for when shopping for a door that's built to last are galvanized torsion springs, which look better and last 50% longer than the industry's standard oil-tempered springs; heavy-gauge steel to ensure a quality appearance; dent resistance and quiet operation;, a hot dipped galvanized coating topped with a baked-on paint finish that resists fading and peeling; insulation that is contoured and bonded on both sides of the door panel for improved dent resistance; and strength and R-value.
Steel and composite carriage house doors are an increasingly popular alternative to traditional wood doors because they are low maintenance, insulated and won't fade, rot, warp or crack, meaning they won't need to be refurbished or replaced as frequently as doors constructed from natural material.
Commercial Garage Doors
Clopay is the preferred manufacturer and supplier of commercial overhead and upward acting sectional garage doors among architects and building professionals.
Good Housekeeping Guarantee
Clopay has earned the distinction of being the only garage door manufacturer to earn the Good Housekeeping Seal of Approval. This seal represents Good Housekeeping's limited warranty that carries the full weight of Good Housekeeping Magazine. The limited warranty is the magazine's pledge to consumers, published in its entirety in each issue of Good Housekeeping, that if any product that carries the seal is found defective within two years from the date of purchase, Good Housekeeping will either replace it or refund the purchase price. No other publications make this promise to its readers.
Learn about Tax Deductions for insulated garage doors.
Get more information on Clopay doors.
Get a Free Estimate Today